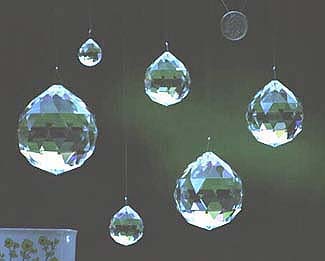 Ball 40mm AB
|
---
$37.00
$32.99 On Sale!
---
More Details - Ball 40mm AB

The Crystal Ball is the most popular of all Crystals, and with good reason! A single crystal ball can fill an entire room with RAINBOWS! Pleasing round shape, dozens of sparkling facets. Available in SIX sizes ranging from 20mm, the size of a U.S. Nickel, to 70mm, about the size of an Orange. All Six are pictured here, with a U.S. Quarter and a coffee mug for size comparison!

The 70mm Ball is at far left, with the coffee mug below it. The 40mm Ball is fourth from left, at top center.

Pictured from Left to Right are: 70mm Ball, 20mm, 30mm, 40mm, 60mm, and 50mm. Note the U.S. Quarter at top right for size comparison. The Crystal Ball is Beautiful in All Sizes, and Makes Great Rainbows!

With Aurora Borealis Gold added, only a few facets are touched with the golden iridescent color, to add a bit of extra sparkle and to make the crystal colorful when there is no sun shining.

You can't go wrong with a Crystal Ball. Simply choose a Size, & Enjoy the sparkles & the Rainbows! Gorgeous in 100% pure through & through clear crystal. Most sizes are also available with 24K gold AB aurora borealis coating. Beautiful ab gold is not applied to the entire ball, but just on a few selected facets. It adds sparkling iridescent color to the ball, especially in dim light, and still makes rainbows in the sun! Try one of each - See which you like best. They are very beautiful either way!