---
---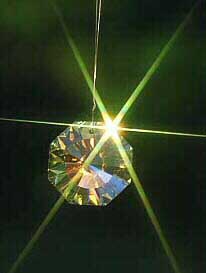 Crystal Prisms Do Amazing Things With Light!

This gorgeous crystal is making a bright flash of Light
Just by being in the Sun!
Crystals make gay colorful rainbows that flash all around them. Crystals are shiny & shimmery and very beautiful. You must enjoy these crystals for yourself to understand the pleasure and entertainment they provide! Crystals can create high drama in sunlight! Sunlight is refracted, causing the bright colors of the rainbow to become visible! Brilliant flashes of light, as seen in this photo, and beautiful colored Rainbows, are produced by the crystals! They Light up Your Home and Your Life!
(Crystal shown is Sunburst with ab)
Fill your life with Rainbows!!!
---
---