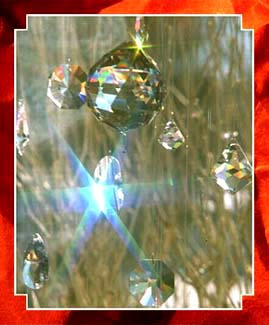 The dreary winter landscape outside this window is forgotten, brightened up by the flashing beauty of the crystals! Note the rainbow colors on the Crystal Ball (top center)!

Visible From LEFT: An Icicle 40mm, Fancy Pear 50mm (bottom), Sunburst 40mm (top), Ball 70mm (big crystal at top center), Smooth Slice 50mm, Sundrop 60mm (bottom), Bell 30mm, and Bell 50mm.

It's the little Smooth Slice 50mm making that huge starburst! Just ten dollars, it's an awesome little thing! Makes Great Rainbows!