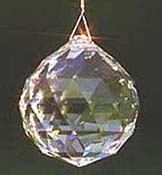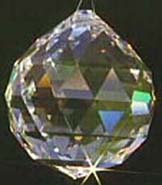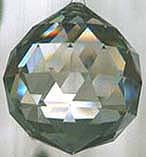 The Magic of the Sphere
There is so much crystal packed into the Spherical shape of the Ball that the Rainbows are just Spectacular. Clear, or with a touch of Gold, or in a beautiful Color, each Crystal Ball will give you years of enjoyment. Pretty, shiny, and sparkly all the time. When the sun shines, the real fun begins~ Rainbows! Sizes range from 20mm (3/4 of an inch) to 70mm (almost three inches). All sizes are wonderful, but the LARGER the crystals are, the more impressive and dramatic both they AND the Rainbows are! They will last forever, so splurge and get a Nice BIG One!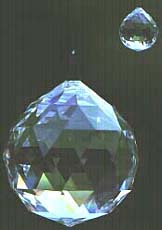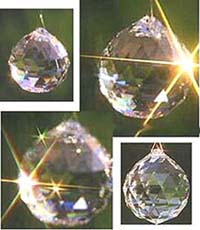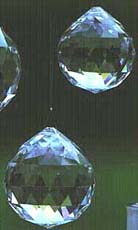 Breath-Taking Crystal ~ Fabulous Rainbows! Many Hours of Pleasure!
The Rainbows will pick up your spirits every time! One of the few crystals that is truly round. Mixes nicely with other crystal shapes. Enhance Ch'i (vital energy) in Feng Shui decor with these beautiful Round Crystals. Simply choose a Size, and Enjoy the Sparkles and the Rainbows! Gorgeous in pure clear crystal. And, most sizes are also available with 24K gold "ab" aurora borealis coating. Beautiful ab gold is not applied to the entire ball, but just on a few selected facets. It adds sparkling iridescent color to the ball, especially in dim light, and still makes rainbows in the sun! Try one of each - See which you like best! They are very beautiful either way!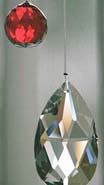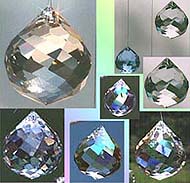 Don't Miss the Ball in Gemstone Colors and the Swirl Ball!
Spectacular Crystal Balls are available in your Favorite Colors! Beautiful Green, Sapphire Blue, Rose, and Red. They make gorgeous Rainbows just like the Clear Crystals! Here is a brilliant Ball 30mm Red hanging in a crystal display with a beautiful 76mm Fancy Pear crystal prism. They are very pretty together! The Ball is Spherical in shape, with Triangular facets evenly placed all over its surface. These cut and polished facets give the Ball its beautiful sparkly appearance and also give it the ability to make Rainbows! The Swirl Ball is a Beautiful Crystal Ball with unevenly shaped facets in a swirled pattern. A truly lovely variation on the theme of the sphere. Ever so slightly teardrop shaped, and facets arranged in a wavy swirling pattern rather than by strict geometry. Gorgeous and VERY POPULAR! Great rainbows! Improve your Ch'i (vital energy). The Swirl Ball and the Ball are great for Feng Shui!