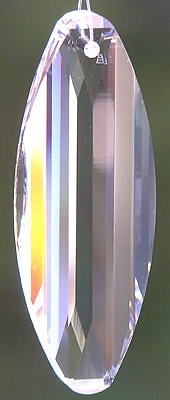 Surfboard 50ab OFF SITE
|
---
$18.00
$16.99 On Sale!
---
More Details - Surfboard 50ab OFF SITE

Beautiful New Crystal Design from Swarovski!
Flat and oblong, with narrow length-wise facets. Shaped like a little surfboard, minus the fin!
Delicately Sized, Very Shimmery and Full of Sparkly Rainbows!



Swarovski Surfboard Crystal. At left is AB crystal, at right is Clear Crystal shown twice. All Crystals are Same Size, with different photo magnification. Crystal is 50mm Size (Two Inches).

View of Bottom Edge of Surfboard Crystal to show its flatness. Line Drawing of Crystal and Facets at Right.



Swarovski Surfboard Crystal. New Design for 2005.