SUNDROP 50mm SORRY- SOLD OUT ~ Please See Our Wonderful SunDancer Crystal !


Another generously sized crystal, this 50mm Sundrop is 2 full inches across. Hefty, gorgeous, and makes loads of rainbows! This is a very beautiful and simply shaped octagonal prism. Enjoy the gleam of lovely crystal and the fun of brilliant rainbows! Available in wonderful rainbow-making clear crystal. News: This wonderful crystal is RETIRED and no longer being made by Swarovski. Sorry, our supplies are gone! If you have one, make sure to Treasure It! It cannot be replaced! Genuine Swarovski Crystal


Here is the Sundrop "Family". Left to right, you can see the Sundrop in 60mm (2 3/8 inches) size, 50mm, 40mm, 28mm, and a U.S. Quarter for comparison. That's a 40mm Ball peeking into the picture on the left.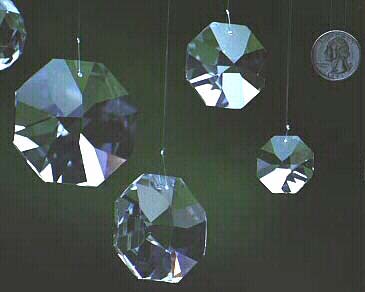 Here is a line drawing of the Sundrop, showing the facet pattern. It is difficult to see the details in the photographs because the crystals reflect so much light!