Sundrop Crystal Gift Shop! • Spectacular Swarovski Crystal Beads & Hanging Prisms! Crystal Gifts! Hanging Crystals Make Rainbows in Sunny Windows! Sparkling Crystal Jewelry! Fabulous Suncatchers! • We Love Rainbows!

~ Welcome! ~ Sundrop Crystal Gifts ~ Swarovski Crystal ~
Beautiful Crystal!
New Hampshire, U.S.A.
~ SUNDROP CRYSTAL GIFT SHOP ~

Wild Heart Crystal


~ Since 1998 ~ Wind and Sun Catchers ~
We have many beautiful things for your pleasure!
Swarovski Crystal Prisms hanging in a sunny window
will fill your life with Rainbows!!!
Suncatchers in shapes of dolphins, moons, stars!
Beautiful and Musical Wind Chimes! Perfect Gifts!
*CHIMES!!* *MOBILES!!* *CRYSTALS!!*
<!====THREE LINKS END===========-->

WELCOME TO OUR CRYSTAL SHOP!
~ Please Come In! ~


Experience Spectacular Sparkling Swarovski Crystal in Sunlight! In direct sun you will enjoy beautiful sights like this with Hanging Crystal Prisms. The crystal suncatcher breaks sunlight into Rainbows that splash your walls! You will see bright flashes of light & beautiful colors! We have Swarovski crystal prisms and crystal beads! Crystal Suncatchers in beautiful shapes. Look for our lovely wind chimes! Buy Prisms for any occasion!
~ Greetings! ~ We Ship Inside the USA Only ~ USA Orders Only ~
---
R
a
i
n
b
o
w
s
!
!
!
Decorate Your Windows with Beautiful Hanging Crystals!
Crystal Prisms Will Fill Your Life with Rainbows!
~ How can we hope to tell you how wonderful crystal suncatchers are? ~
---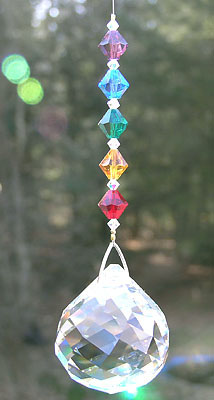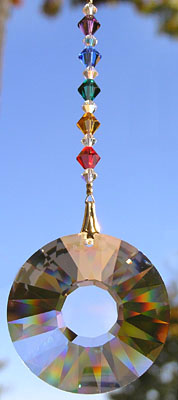 Crystals and Sparkly Crystal Bead Rainbows!
Rainbows Rain or Shine! Enjoy Yours Today!
---
---

~ * ~
~ The Love Candle ~
Wonderful Crystal Prism Lantern
Makes Dancing Rainbows Using a Candle!


---

This Delightful, Unique Candle Holder Will Enchant You!
Created of High Quality Stainless Steel and Fireproof Crystal Glass.
Makes Dozens of Romantic Flickering Rainbows Using Any
Ordinary Candle or Bright Battery LED Candle.
Very Beautiful! ~ Dazzling and Spectacular!

---

---
---
---
~
Polar Bears in Crystal Ice Cave
~
Beautiful Carved Crystal Polar Bear Figurine!
Lovely Iridescent Colors!
---
Crystal Figurine with Carved Frosted Polar Bear Mother and Cub in a Luminescent Colorful Ice Cave!
Unique and Lovely! ~ Always Interesting!
---
---
~ Welcome! ~ If you are looking for a Beautiful, Long Lasting Crystal Gift,
or a Treasured Decoration for your Office or Home, you are in the Right Place!
---

• Swarovski Crystal is the best quality crystal in the world! Swarovski hanging crystal prisms are exquisite and gorgeous! • Swarovski Austrian prisms are beautiful window decorations! Crystal prisms from Swarovski create fabulous colorful rainbows in sunlight! •

---

• Window crystals make perfect gifts for any occasion. You can buy hanging prisms for birthdays, anniversaries, graduations, holidays, or wedding gifts. Anything at all can be remembered with a sparkling gift of hanging Swarovski crystal. Your remembrance will last a lifetime! Start a New Tradition! •

---

• You might spend ten dollars on lunch today. Invest that in crystal swarovski window ornaments instead and get ready to enjoy your window crystals for many years! • Swarovski crystal prisms are available in shapes of crystal drops, crystal diamonds, intricate new designs, and lovely faceted crystal balls. •

---

• To enhance energy with feng shui these hanging prisms are perfect. Crystal collectibles are great for new age and crystal diamonds are fun anytime! • Rainbow crystals are definitely a treat you don't want to miss! Sparkling Austrian Swarovski Crystal Prisms hanging in a window are beautiful and joyful! If you happen to prefer a table decoration, we also have rainbow prism candle holders and exquisite crystal figurines to grace a shelf or windowsill. Classic beauty and mystery plus rainbows! •

---

Get your crystal suncatchers today! You'll be glad you did! • Enjoy beautiful Rainbows!
---
---
~ * ~
~ Sundrop Crystal Gift Shop ~
New Hampshire, U.S.A.
Our Information
Specializing in Swarovski and other Fine Crystal Since 1998!
Many Thousands of Happy Customers! ~ We Appreciate Your Business!
Your orders and information are Secure regardless of how you contact us.
Internet Only ~ NO LOCAL SHOP
---
All of our items require hand assembly.
Your Order is Shipped as quickly as possible, usually in A Few Business Days (Mon-Fri, no Holidays)!
AFTER THAT IT WILL SPEND 2-5 DAYS IN THE MAIL (Longer if you are outside the U.S.A.)
— If you have a Deadline, PLEASE Tell Us. —
We are very pleased to perform delivery miracles but we must know when the miracles are needed.
Handmade and Custom orders may take a little more time. We make your items right here for you.
Your credit card is charged when your order is placed. You will immediately Receive an email Order Confirmation
with an Order Number. You will NOT receive an Email when your order is mailed.
---
Sorry, We have NO CATALOG. Website Only ~ No printed paper catalog.
Sorry, We have NO SHOP To Visit. Website Only ~ No shop.
Click Here For Wholesale Information. NO CALLS, Please.
~ We are a Secure Shopping Site ~
Shop Securely Online or Print an Order Form and Mail or Fax your order to us.

---
We respect your Privacy.
Customer information is not sold or given to anyone, for any reason.
We will not email or call you except for personal correspondence or questions/information regarding your order.
~ www.SundropCrystal.com ~
---




Decorate Your Windows with Hanging Crystals! Enjoy Rainbows from Crystal Suncatchers!
---

---

~ Remember Your Sweetie on Valentine's Day (Feb 14) and on ALL Special Days! ~
We have Romantic Sparkling Crystal Hearts in Beautiful Shapes and Colors! Sparkly Beads, too! Don't Wait! Be Ready!

---

---
---
Rainbow Crystals will make you Happy!
---
Swarovski Crystal Prisms
are Fabulous Wedding Gifts!

Tell Your Friends About
Sundrop Crystal!
Enjoy Swarovski Crystals!
Rainbow Suncatchers are Fun!
---
XML SiteMap
Site Map Site Map
SiteMap2 SiteMap2
Welcome
Crawler Crawler
• Thank You for Visiting Sundrop Crystal Gifts! •
Fine Swarovski Crystals Since 1998!
~ Crystal Window Decorations To Fill Your Life with Rainbows! ~
We Love Rainbow Crystals! We Think You Will, Too!
• We have hanging window crystals from all over the world! • Swarovski Austrian lead crystal, Egyptian Asfour crystal prism suncatchers, and even newly available Czech Preciosa rainbow prisms. Our Swarovski crystal prisms include both the top quality Swarovski Strass and the lead free Swarovski Spectra rainbow suncatchers. • Enjoy Swarovski crystal drops, crystal diamonds, aurora crystals, and faceted crystal balls! Beautiful swarovski crystal collectibles! •

---

• Swarovski Crystal prism suncatchers are wonderful because they don't sit on a shelf or a windowsill. Austrian prisms hang up out of the way and decorate your windows! • And, you can play with your rainbow suncatchers! Give them a gentle nudge when the sun is shining on them, and rainbows will fly all over your room and dance on your walls! Hanging prisms are truly fun! • Enjoy special feng shui and new age energy from crystal jewelry and lead crystal window ornaments. • Hanging window crystals are a joyful rainbow experience! Try some today! •

---

• Sundrop Crystal Gift Shop has wonderful Swarovski crystal rainbow prisms in Many Shapes! • Look for faceted crystal balls in many sizes and a variety of fascinating colors! Classic beauty and mystery! •

---

• Sundrop Crystal Shop also has Flensted Mobiles and Woodstock Chimes Windchimes! • Look for your favorite style of windchimes! Celestial wind chimes are beautiful and fun! • Swarovski Austrian lead crystal sparkles and makes rainbows in sunlight. It also glows and shimmers beautifully in the light of candles! • Lead Crystal Window Ornaments! Get All Your Fun and Beautiful Suncatchers and Great Gifts Here at Sundrop Crystal Gift Shop! •
---
~ Windchimes ~ • ~ Crystals ~ • ~ Prism Candle Lantern ~
~ Welcome! ~
---
© Copyright 1998-2019 © Sundrop Crystal, Sundrop Crystals ©
All rights reserved. All design, content and images are copyrighted and may not be used, modified or reproduced in any form without express written permission from Sundrop Crystal. (This means You!)


---