Heart Prism AB with Sparkling Colorless AB Beads! Spectacular!
~ Crystal Prism Heart Ornament! ~


Classic Crystal Prism Heart in Clear or Sparkling Golden AB, Beautiful and Shimmery Hanging By Itself, or Extra Special Ornamented with Beautiful Crystal Beads! Add Amazing Sparkle with Crystal AB Beads! Wonderful! Or Add Fabulous Contrast with Bright Colorful Rainbow Beads! The Beautiful Crystal Heart makes Rainbows in Sunshine! With a Rainbow of Colored Crystal Beads added for good measure, it is Very Striking! Beautiful Sparkle, top to bottom! Red bead is closest to the heart. Beads and Heart are approximately 5 inches in length. Total hanging length is about 12 inches.

The traditional classic Heart Shape in a crystal prism form that makes rainbows! Simple but beautiful pattern of facets lends sparkle to this sentimental gem! Like the Pear, this piece appears to have a star embedded within it. Beautiful in Clear Crystal. Add a coating of Aurora Borealis sparkling 24K gold for Iridescent Colors and sparkling gold luxury. A lovely item and a great Valentine or Sweetheart gift!



~ A Crystal Heart is a Wonderful Way To Let Someone Know That You Care! ~ A Charming and Thoughtful Gift for Any Occasion! ~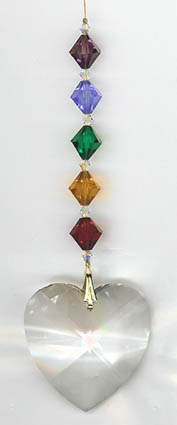 Heart Prism Clear With a Bright Crystal Bead Rainbow! Wonderful!