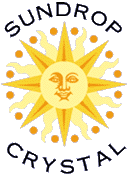 • Fine Swarovski Crystal Prisms Since 1998 •
Welcome! ~ We are Very Pleased to Have You Visit!
---
Beautiful Swarovski Crystal Prisms!
---
Hang crystals as close to window glass as possible while still allowing the crystals to move freely.
Use varied heights and spacing for interest and to keep crystals from touching each other as they move.
When handling crystals, please be careful that they DO NOT touch. If crystals touch they may chip each other.
We do NOT suggest using Suction Cups to hang crystals. Crystal breakage may occur if the cups let go and fall.
If you hang crystal prisms from a tension rod, make sure the rod is tied up securely, or locked if new style.
If You Order, Please Help by Telling us Your Deadline! (Yes, YOU!) Thank You! Happy Shopping!
Please also let us know if you wish Individual Gift Boxes.
---
Enjoy Beautiful Hanging Crystals!!
Fill Your Life With Rainbows!