~ Beveled Heart Pendant or Earrings ~
$39.00
$32.99
~ Beveled Heart Pendant 18ab ~
This crystal heart is flat and smooth, with faceted edges to catch light and make sparkles! Just like a tiny mirror! This is a dainty small size, about 3/4 of an inch, for an understated elegant look. A striking addition to a pretty ensemble! Earrings to match! Crystal heart is on an 18 inch chain, and is a perfect gift! Say it with crystal and gold!
~ Beveled Heart Earrings 18ab ~
These hearts are about 3/4 inch, a fairly generous size for earrings. They are not heavy or bulky, but flat, quite delicate, and spectacularly shiny! They are the SAME size as the Beveled Heart 18ab Pendant. They are a perfect combo! A gorgeous matching set of earrings and necklace. These items catch a lot of light and look very expensive when worn!
~ Beveled Heart Earrings Small 10ab ~
The tiniest of little dangling hearts, with loads of sparkle! Very tiny and light, about 3/8 inch, for those who like delicate earrings. A perfect match for the Beveled Heart pendant! Very pretty!
~ Beveled Heart Large Pendant 28ab ~
Sorry, Large Pendant Sold Out.
Genuine Swarovski Crystal
HANDMADE ~ Click For Info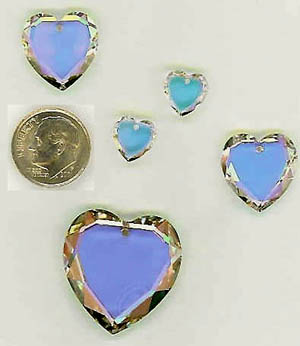 Beveled Crystal Hearts in 28ab, 18ab, and 10ab sizes, with a U.S. dime.

Make a Matched Set!
This photo shows the three sizes of the flat beveled crystal heart. The crystals are NOT blue, the light is playing tricks in the picture. The aurora borealis coating looks gold at times and shows colors at other times. It is always sparkly! The largest heart is 28mm, or 1 1/8 inches. It is flat and is beautiful and comfortable to wear. Add matching earrings for a really special look! If you like very tiny earrings, select the 10mm hearts. For earrings a bit larger but not heavy or bulky, the 18mm hearts are perfect. The U.S. dime in the picture shows you the relative sizes of the crystal hearts. Either size of earrings is perfect with the smaller pendant, also. Choose whatever combination you like!